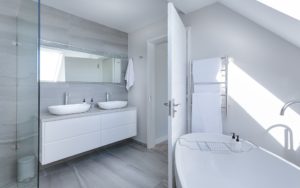 Being in the most populous city in Texas, which is Houston, gives you an advantage of finding the right person to do your bathroom remodeling project. You must first have an inspiration on how you view the space once it has transformed. You can discuss it with the people who will turn your vision into reality.
If you are tight on a budget, make sure that your choices are both practical and modern. Here are the top considerations to think about when it comes to bathroom remodeling:
Shower. Since you'll be using this a lot, spend on something that looks good, sturdy, but still fits your budget. Shower heads can be handheld or fixed. There are styles that depend on how much water you want to fall every time you turn it on. You can get high or low-pressure jets, waterfall showers or massage showers.
Storage space. Lacking this feature will make space look cluttered and impractical. You have to provide a storage area for your towels and toiletries. You can install a ledge-style shelf where you can place soaps and shampoos. You can also add drawers, shelves, and vanity cabinets, depending on the available space. If your bathroom is small, you can leave it to a bathroom specialist to list down your options on where to put storage space in the area.
Layout. This is something that can be done if you want a major renovation for your bathroom. It means that a professional can plan where to place bathroom fixtures and not only add things to what's already installed in the area. It is important to get this project done by a pro because they know how to design the bathroom based on the existing plumbing connections.
Lighting. It is important that the light provides a good, refreshing, and welcoming ambiance upon entering the bathroom. Look for waterproof light fixtures or heat lamps, if you live in a cold place. It is also vital to look into the energy usage of the light since it will affect your electricity bill. You can choose a simple light fixture or something with an extravagant design. Before buying any types, you must first assess the space where the light is going to be installed to ensure that it will fit.
Bath. A bathtub is a must in most bathrooms. You will need it, especially if you are often tired and would want to soak and relax every once in a while. You can use a recessed bath if you have a small space. You should also consider the users when it comes to bathtubs. You need something that is accessible if you have a family member with a disability or elderly. If the bathroom is situated at the second floor, you may want to talk to a pro about the maximum weight of the tub that you need to purchase and they can also assess the water source before recommending the bathtub that will suit all your requirements.
There are other things that you need to look into when planning a bathroom remodeling project. A bathroom specialist from Houston, Texas will make everything easier and such a breeze.